Welcome to Aura of Opulence
Aura of Opulence provides luxury candles, handcrafted in small batches. Our thoughtful blend of apricot and coconut waxes are poured free of dyes, utilizing our proprietary fragrance blends for a stunning self-care experience. Our candles are paraben-free, phthalate-free, and made with pure intentions. 
We can't wait to elevate your Aura! 
SHOP OPULENCE NOW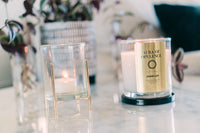 Verified Experiences
My candle from Aura of Opulence was a game changer! From the beautiful smell to the clean presentation, it has become one of my favorites to burn and have displayed in my space.

Natasha M.
The candles were simply amazing. The 4oz was small in size but packed a mighty punch. The smell was long lasting and the we were able to burn the candle for a long time. I'll definitely be returning for more candles!

Taqueasha M.
Aura of Opulence provided my real estate business with candles. They provided a variety of fragrances in nice silver tins as well as a custom label for my business. My
client & I had been searching extensively for her family's dream home. I met her at the
property & placed the candle in her hand and said "this candle, you will light in your
forever home". As manifested, she will light her candle in her new home very soon!

Carla H.