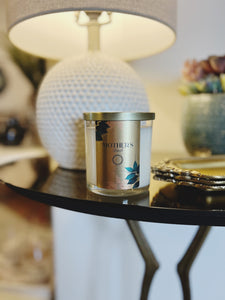 As captivating as an ornate picnic in a field of flowers surrounded by a lush forest that personifies a mother's love. The top notes of this candle introduce the sweet, citrus embrace that pairs perfectly with the fresh picked floral arrangement sitting in front of you. This loving experience is rounded out with hints of sandalwood warming you up, creating a fresh, cozy Aura for your mom or favorite maternal figure.
Scent Profile: Floral & Fruity
Scent Notes
Top: Pomelo + Citrus Fruit
Heart: Garden Rose + Peony
Root: Sandalwood + Woody Resin
Mother's Day Vessel
-Wax Fill: 9oz net wt.
-Burn time of approximately 95+ hours depending on candle care
Candle Care
-Burn within sight
-Keep away from objects that catch fire
-Keep away from children and pets
-Remove any packaging before burning
-Keep wax pool free of debris
-Burn 3-4 hours maximum per use on a stable heat resistant surface
-Let it completely cool before moving or relighting
-Stop burning when 1/2" of wax remains
-Trim wick to 1/4" or 1/8" before each burn
-Avoid drafty areas
-Allow your candle to reach full melt pool on first burn before extinguishing